Business executives, university professors, and local politicians all joined together on September 23rd to support the 2nd annual Toss The Boss.
After several months of anxious anticipation, 37 prominent business leaders from across BC took a daunting plunge into the Nanaimo River, plummeting over 150 feet from WildPlay Nanaimo's infamous bungy bridge. Their brave acts were all part of the second annual Toss The Boss, a fundraising event for the Victoria and Nanaimo brain injury societies (VBIS & NBIS). This year's event raised a staggering amount – over $­52,000.
Toss The Boss challenges organizations to form a team and raise a minimum of $500 for the once-in-a-lifetime opportunity to throw their boss off WildPlay Nanaimo's bungy bridge. All of the funds raised by the event go to VBIS & NBIS, who together support hundreds of brain injury survivors on Vancouver Island. In 2022, VBIS alone served 885 clients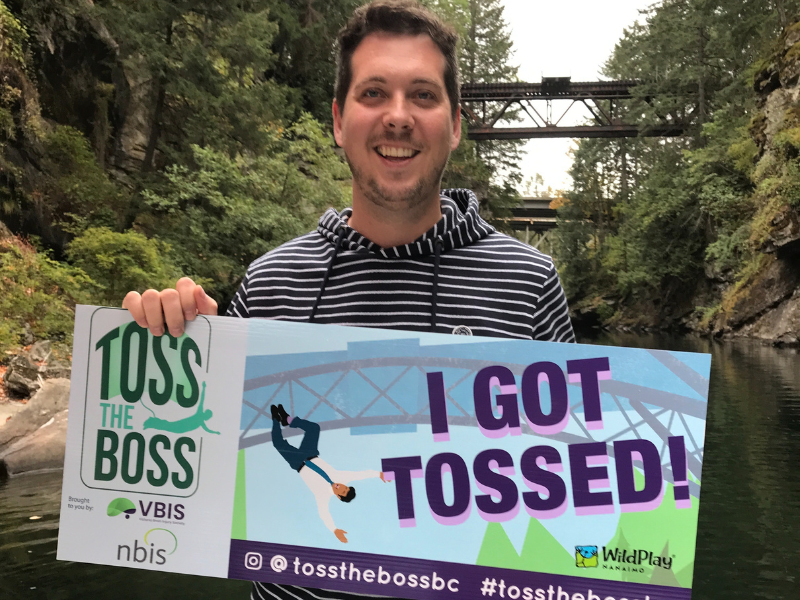 Luke Biles, a Partner with MNP's Private Enterprise team in Victoria, was one of the bosses "tossed" during the event. "A few years ago, our team was directly impacted when our colleague suffered a brain injury as a result of a car accident," he said. "Watching his healing journey and the role that VBIS has played in it over the years makes me proud to take the plunge and fundraise for this great cause."
The money raised by this year's event will allow VBIS & NBIS to serve countless new clients and expand their list of services. In 2022, VBIS has already initiated several new projects, including a back-to-work program with the John Howard Society of Victoria and Faces of Brain Injury, a film series that premiered earlier this month with the goal of spreading awareness and sharing survivors' stories.
To learn more about Toss the Boss, visit tosstheboss.ca, or contact Pam at pamp@vbis.ca.