There are so many people who experience abuse at the hands of those closest to them. And 92% of the time, that abuse involves strangulation or a blow to the head. Sara* is one of the 92%.
Donations are helping VBIS shed light on this very issue so others with brain injuries get the immediate treatment they need so they can recover.

It was a beautiful summer day when Sara reluctantly agreed to get in the car with her ex-boyfriend, Rob*. He assured her that he only wanted to talk. He kept asking her to take him back. The more Sara refused, the more it infuriated Rob.
In the middle of a busy street, Rob slammed on the brakes and dragged her out of the car. She broke free and ran but he caught up to her. Sara remembers him grabbing her and then strangling her. Before being pulled off, he hit her on the side of the head with his hand.
Police and ambulance arrived. Sara says she felt disoriented and struggled to answer the questions thrown at her. The ambulance took her to the hospital because her arms and legs were bleeding from falling onto the concrete. No one ever mentioned the possibility of a brain injury. She was bandaged up, given some pain killers, and sent on her way. Exhausted and emotional, all Sara wanted to do was go home.
She took a couple days off from work, then tried to get back to "normal." Only normal never seemed to happen. The headache she had since the assault, continued. She started feeling anxious and depressed. Fatigue was now a constant battle. Her vision started wavering. Doctors had no answers for her symptoms but Sara persisted to figure out what was wrong. Finally, after three years, she learned she sustained a concussion from the attack by Rob.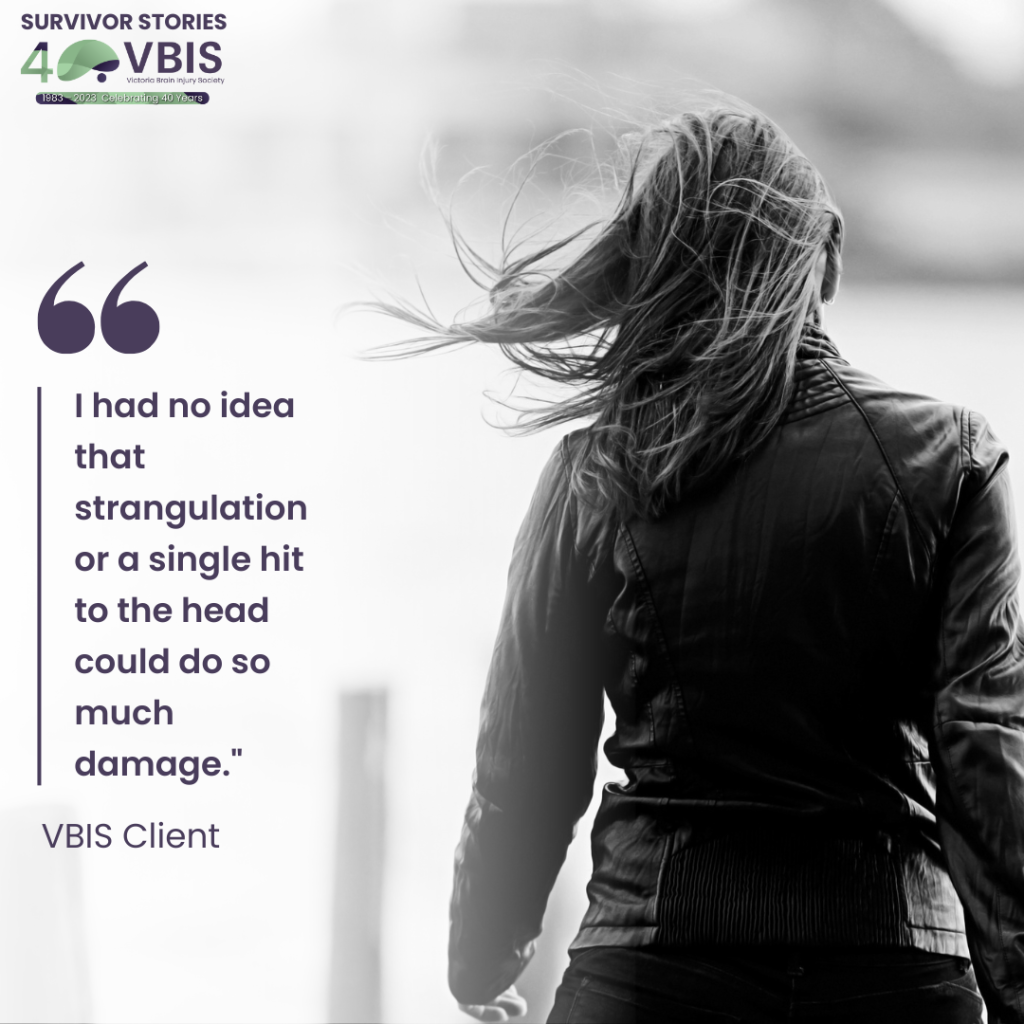 A doctor told her about VBIS and the supports we provide. Programs funded by our donors helped Sara learn about head injuries and how to manage the symptoms she experiences. Sara is incredibly grateful for the support she has had along her healing journey and wants to thank all the donors who make it possible for VBIS to be there for her.
Sara's experience isn't unusual. Many service providers lack awareness of the high probability of head injury following IPV. This is why VBIS delivers the Relationship Abuse and Brain Injury program (RABI) – to spread the word to law enforcement and service providers that domestic violence survivors need to be screened for brain injuries.
You can make a difference today, by making a donation to the RABI program. You will be helping people like Sara get the immediate treatment they need so they can recover.
Support Survivors of Relationship Violence Today!
If you or someone you know has experienced a brain injury and would like to learn more about the RABI Program, contact VBIS at 250-598-9339 or email admin@vbis.ca.
* To respect the privacy of our client, names have been changed for this story.
Join Us. Become a donor today and make a change in a life of an intimate partner violence survivor.