This is the first segment of our new blog post series, "Brain Injury Basics", written and researched by neuroscientist, Kamal Narayana. Kamal is a graduate student in the Division of Medical Sciences at UVic.
Affecting 15 million people worldwide, stroke remains the second leading cause of death and third leading cause of death and disability combined in the world. It is estimated that the global cost of stroke is over $891 billion (USD) with the majority coming from the substantial burden placed on survivors.
What is a stroke?
Stroke, which carries a high risk of death, is characterized by the obstruction of vessels that supply blood to the brain. An ischemic attack is defined by a clot blocking blood supply to the brain and is the most prevalent whereas the less prevalent but most dangerous hemorrhage attack is defined by a rupture of a blood vessel.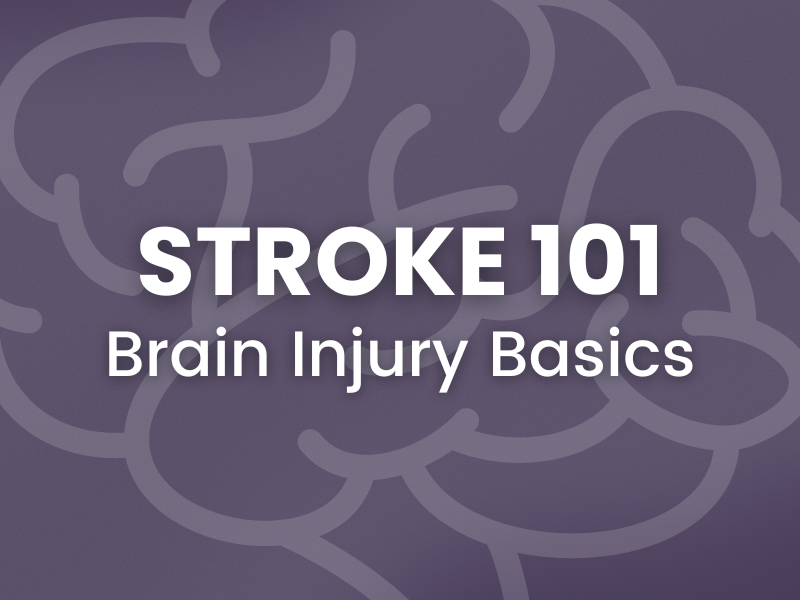 Who is at risk of having a stroke?
Though the incidence of stroke increases with age, doubling every decade after the age of 55, one in seven of patients hospitalized for ischemic stroke annually are young adults. In fact, findings from a new study by the University of Oxford showed a sharp increase, 67%, in the incidence of stroke in young adults from 2002 to 2018. Irrespective of age, women are at equal or greater risk of stroke than men. In fact, stroke is the fifth leading cause of death for women in the world. Moreover, Hispanic and black population are at higher risk of stroke than white population; notably, hemorrhage stroke. Although these facts are alarming, it is important to state that 4 in 5 strokes are preventable, which is why it is important to reflect on the modifiable risks in order to protect your health.
High blood pressure and tobacco use are the most significant modifiable risk with heart failure and heart attack following. In fact, for every ten people who die of stroke, four could have been saved with blood pressure regulation, and two-fifths of strokes under the age of 65 could have been prevented without tobacco exposure. Although the incidence of stroke is declining in many countries, the rise of diabetes and obesity significantly doubles the risk of stroke and confers an approximately 20% higher mortality rate. In addition to this, prognosis for diabetic individuals who have experienced stroke are placed under a greater clinical burden in that they have higher rates of severe disability and slower recovery.
What happens after you have a stroke?
50% of stroke survivors become chronically disabled and experience impairment ranging across physical, emotional, psychological, and mental spectrums. Stroke survivors are 50% more likely to develop dementia and 30% more likely to live with cognitive dysfunction. Stroke survivors are at a higher risk of depression, anxiety, and social isolation, which can have negative impacts on family relationships and leisure activities. In addition to this, survivors are placed under tight financial constraints with the average Canadian spending approximately $30,000 (CAD) on recovery. Thus, stroke is a disease of immense public health with serious economic and social consequences.
Can you prevent a stroke?
As discussed, lifestyle risks play a significant role in stroke, and thus prevention is key. The Canada Heart and Stroke Foundation points out six main lifestyle changes that reduce the risk of stroke, which are: healthy diet, physical activity, healthy weight, stress levels, alcohol abuse and smoking. Importantly, it is knowing whether you are in the high-risk group because even the small favorable changes could lead to major reductions in stroke incidence. Another important consideration is preventing subsequent stroke events, and in the case of both ischemic and hemorrhagic stroke, appropriate control of blood pressure is important for secondary prevention.
Promising research for stroke survivors
Although stroke is far more common and treatment options are limited, despite the prevalence and severity, recent breakthroughs have been made that offer hope to patients and families.
The first is the development of a portable MRI machine at Yale Medicine, which would narrow the delay window stroke patients experience when first admitted into a hospital. MRI machines are heavy and use powerful magnets, which means they are kept in isolated areas such as hospital basements, and thus, limits their availability. As mentioned, it is imperative to diagnose the type of stroke in the first hour in order to progress with the correct treatment and to minimize damage to the brain.
The second is a neuro-monitoring technology that studies a stroke patient's blood pressure after recovery for optimal treatment. Manage blood pressure after stroke is crucial to a) the survival of the patient, b) minimizing secondary and recurring events, and c) providing a steady recovery. Studying how an individual's blood pressure changes after a stroke may well permit personalized medication and short recovery. Additionally, this may shine light for extensive blood pressure medications that suit individuals with pre-existing conditions rather than a general medication provided to a greater population.
The third is an active research project at the University of Victoria (UVic) that is looking into how the immune system responds to stroke. Very little research is conducted on the behavior of immune cells in response to a stroke, and whether or not their signaling and migration processes are impaired. Studies at UVic are working to understand the cellular and mechanistic signals of the immune system as well as blood pressure changes in response to stroke. This research may extend the therapeutic window and aid in the development of targeted therapeutics for the treatment of stroke.
What do you do if you think you're having a stroke?
In the event of a stroke, act F.A.S.T and call 911 immediately. Time is a key factor in treating stroke – the longer you have signs of a stroke, the greater the risk of depriving your brain of oxygen.